Bakuriani Ski Resort
Hotels in Bakuriani
The mountain resort Bakuriani is situated on the northern slope of the Trialeti Range, 29 kilometers from Borjomi, at an elevation of 1,700 meters (5576 feet) above sea level in the sub-tropical zone. The snow blanket remains for 4-5 months, but the aroma of the coniferous trees and other climatic factors create ideal conditions for rest and recreation in the summer. It is a paradise for ski lovers and an internationally important winter sports center, which meets Olympic standards.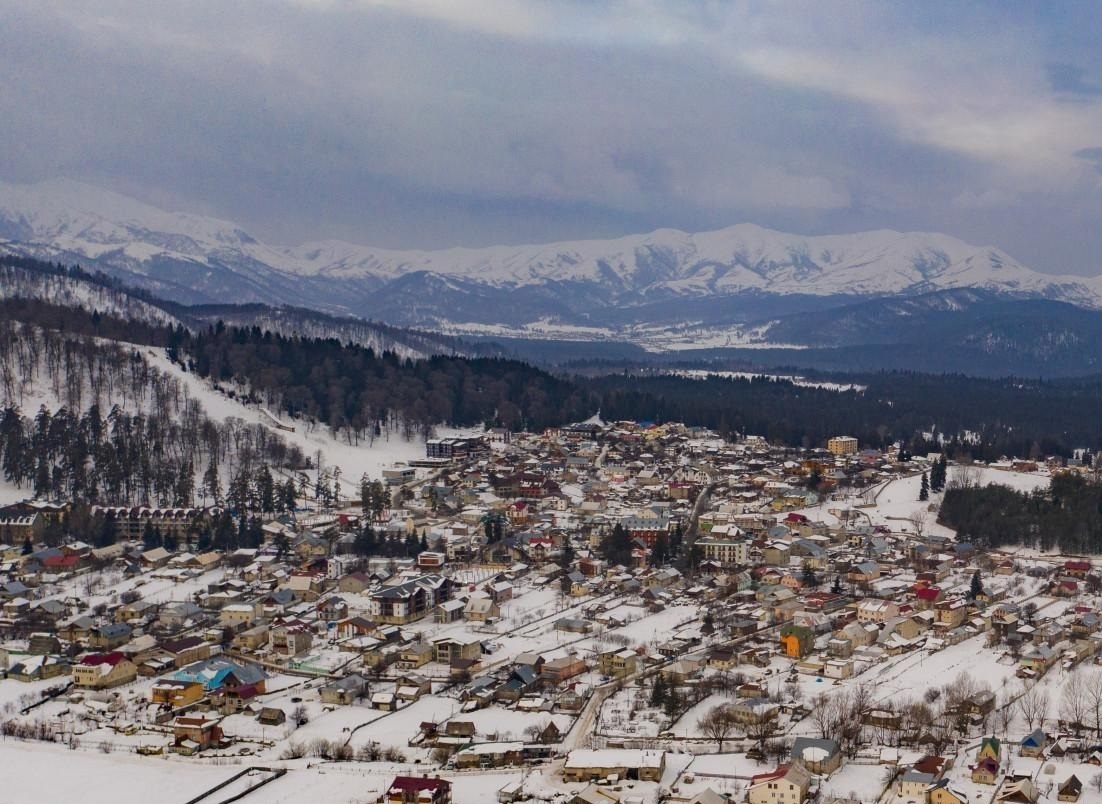 Climate
The climate of Bakuriani is transitional from humid maritime to relatively humid continental. The winters are cold and experience significant snowfall while the summers are short. The average annual temperature of the town is 4.3 degrees Celsius. 7.2 ° C in January and 15 ° C in August. The average thickness of snow cover is 64 cm.
The first residents of Bakuriani were Ukrainians. In the XVIII century, the Ukrainians were resettled in this town. Later Georgians were also settled there.
Well-Known "Kukushka"
Many tourists and locals have traveled by famous "Kukushka" train that passes through amazing forest and ascends great mountains of Georgia. If you get a chance to visit Tsagveri, Borjomi or Bakuriani resorts of Georgia don't forget to take the famous train trip as well.
Borjomi's famous Kukushka train obtains intangible cultural heritage status. The bridge which connects Tsagveri (a small city in Borjomi Municipality, south-central Georgia) to Tsemi village through a Borjomi-Bakuriani railway line was designed by the French engineer Alexandre Gustave Eiffel by the order of the Romanovs, the Russian royal family. The construction was brought to Georgia in pieces and installed on the river Tsemistskali in 1902. The first "Kukushka" (the Russian nickname for a steam engine) train has completed the Borjomi-Bakuriani route in January 1902. Since the railway line went through highly mountainous areas, a Porter-type steam engine was brought from England.
Later, open carriages were added to the train, framed only by handrails. Since 1967, the small steam engine was replaced by an electric engine. The popular "Kukushka" still functions, a favorite of tourists and locals alike.
In 70-80-s of the XX century Bakuriani was one of the bases for the training of ski mountaineering Olympic national team of the Soviet Union, where many famous Soviet skiers were training, it also various slalom, bobsleigh, biathlon and ski flying sporting events was held.

The resort's infrastructure was established in Soviet times ago when Bakuriani used to be a Winter Olympics training base. Since then thousands of people keep coming to Bakuriani to ski, sled, explore the nearby hills and slopes, practice cross-country skiing or just to relax and breathe fresh mountainous air. The infrastructure has been renovated turning Bakuriani into one of the most popular Georgia ski resorts.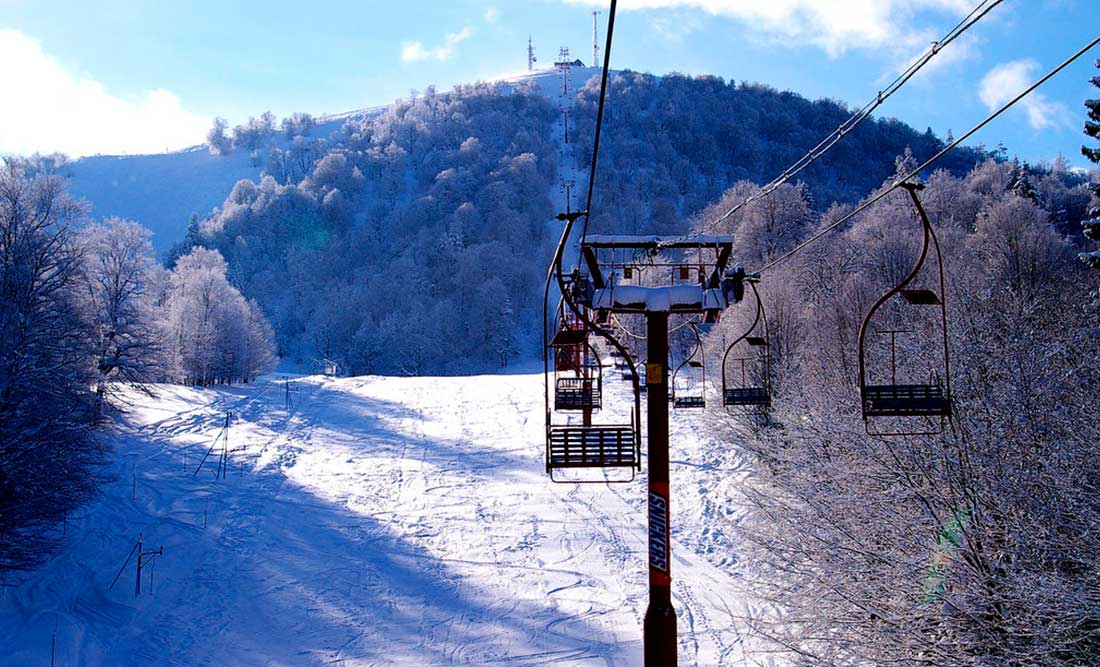 Currently, Bakuriani offers 23 ski pistes with a total length of 29.1 kilometers. The tracks are equipped with artificial snow-making systems and targeted for all skiers. Slopes here are divided according to the following levels of difficulty - beginners, intermediate, advanced, expert. 8 lifts and 1 funicular are opened from 10 am to 5 pm and serve visitors.
Many international athletes come here to practice their skills. It is also a superb venue for children to take their first steps in winter sports; ideal for families and popular among the young generations. Ropeways, ski-jumps, ski tracks, cross-country skiing, night skiing, horse-rides, horse-drawn sleds and snowmobiles - all can be found in Bakuriani. The surrounding mountains offer numerous possibilities for both challenging and scenic mountain mobile trips.
Slopes
There are several main trails in Bakuriani, one of which is Kokhta (2,255 m high) is a 4 km ski run with difficult and medium difficulty slopes. This is the oldest ski area in Bakuriani.
Dive (1861 m) has one of the most amazing trails. From here you can catch a gondola to the slopes of Mt. Sakvelo, and ski a range of blue and red routes. The longest piste is around 4 km long. Advanced skiers can continue further up the mountain by catching a chairlift at the top of the gondola to almost the very top of Mt. Sakvelo itself. Here, you can enjoy stretching your ski legs on very steep and difficult red and black runs.
Totally renovated resort Mitarbi (1500m) was able to accept its first visitors after 30 years on December 25, 2016. Winter sports lovers are offered to try 3 new ski lifts, 9 km ski pistes suitable for intermediate, expert and advanced skiers/snowboarders, joining ski piste for Kokhta and Mitarbi, modern infrastructure and new unforgettable experiences.



A Health Resort

The healing properties of the resort vary from season to season. Doctors especially advise patients to rest in Bakuriani during the Christmas blossom. Treatment indications in Bakuriani (Beshumi, Gomi Mountains, Bakhmaro) are: Non-Tuberculosis, Lymphadenitis, Chronic Bronchitis, Pleuritis, Secondary Blood Disease, Malaria, Rachitis, light and medium forms of Bronchial Asthma.


Short info guide
8 Ski lifts
27 km of ski runs 15% with artificial snow
Levels of ski pistes - Intermediate, Advanced & Expert
Night Skiing
Toboggan
Kids Parks: "Didveli" and "Joyland"
Ice Skating
Horse riding
Snowmobile rental
Cinema Didveli
Bike Park
No comments
Leave a reply